-Christian Turner (Coastal Carolina Bass Fishing Team President and College B.A.S.S. Competitor)
Introducing our guest angler, Christian Turner, President of Coastal Carolina Bass Fishing! We are thrilled to have Christian share his expertise and insights on the best baits for July fishing. As an avid angler and leader in the bass fishing community, Christian brings a wealth of knowledge and experience to the table. In this blog post, he will delve into the top three baits that have proven to be incredibly effective during the summer month of July. So, whether you're a seasoned angler or just starting out, get ready to discover some game-changing lures and techniques that will help you land more bass this July. Take it away, Christian!
1. Drop Shot:
How to Fish: Rig the Drop Shot with your preferred worm, allowing it to suspend above the bottom. Use a slow, subtle twitching motion to entice bass to bite. Pay attention to changes in structure or cover and target those areas for potential bites.
Preferred Color:  Goby
Best Time of Day: Morning and midday when bass are actively feeding near the bottom or in deeper water.
Pictured is Missile Baits Bomb Shot 4" Goby Bite
Pro Tip:
When working the drop shot, pay attention to any subtle line movements or twitches as they can indicate a bite.
2. Texas Rig:
How to Fish: Rig a worm or creature bait with a 3/8oz pegged tungsten bullet weight. Cast the bait near structure or cover and work it slowly along the bottom. Use occasional pauses and subtle movements to entice bass into biting.
Preferred Colors: Junebug
Best Time of Day: Midday through evening when bass are holding in deeper water or near structure.
  Pictured is the Fishing Assault Junebug Savage Craw
Pro Tip: Experiment with different retrieve speeds and cadences to find what works best for the prevailing conditions.
3. Hollow Body Frog:
How to Fish: Use the frog as a kicker bait to target larger bass. Cast it near heavy cover, such as grass mats, pads, or woody laydowns. Retrieve the frog with a slow, steady motion, creating a realistic frog-like action. Be prepared for explosive strikes.
Preferred Colors: Black belly
Best Time of Day: Morning, late afternoon, and evening when bass are more likely to strike surface baits.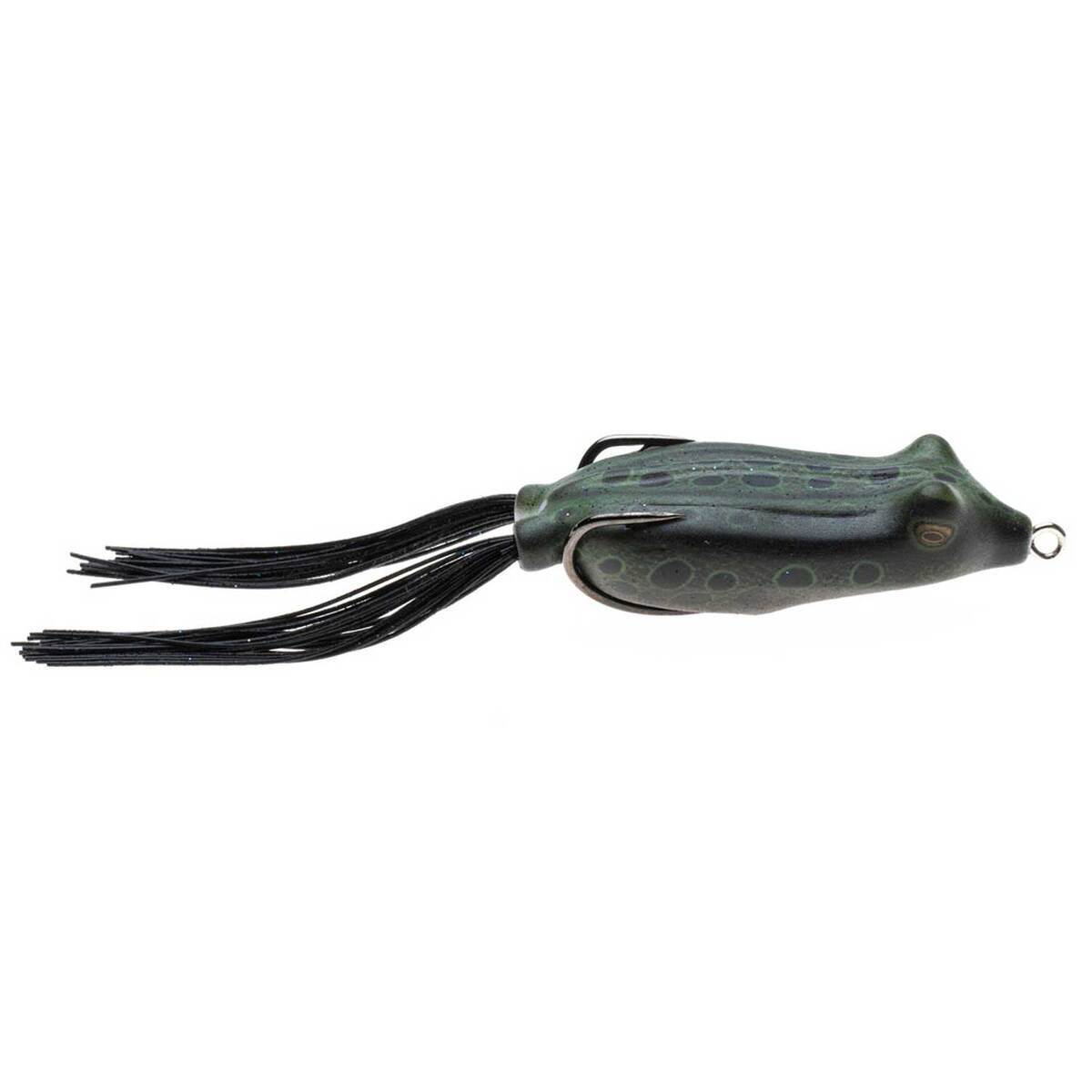 Pictured is the Southern Lure Phat Frog in Black Moss
Pro Tip: Trim the skirt of the frog at an angle to give it an asymmetrical look, which can be more enticing to bass.
In conclusion, these top three baits recommended by Christian Turner, the Coastal Carolina Bass Fishing President, are excellent choices for your July fishing adventures. The drop shot, the texas rig, and hollow body frog have proven to be effective in enticing bass to strike during this time of year. By understanding how to fish each bait, the preferred colors, and the best time of day to utilize them, you can increase your chances of success on the water.
Remember, fishing is not an exact science, and conditions may vary from one body of water to another. It's important to adapt your techniques and approach based on the specific conditions and the behavior of the fish. Pay attention to the subtle cues and adjust your retrieve speed, presentation, and bait selection accordingly.
By incorporating these top baits into your July fishing arsenal and utilizing the tips and modifications shared by Christian Turner, you'll be well-equipped to target and catch bass during this time of year. Enjoy the thrill of the chase, savor the beautiful summer days on the water, and may your fishing adventures be filled with excitement and success.
Tight lines and happy fishing!